Posted By RichC on August 12, 2006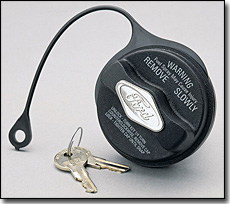 According to an Associated Press article forwarded to me from the Northwest Florida Daily News, Ford has indicated that it intends to eliminate the gas cap. The first model that will receive the 'pressure flap' will be the 2008 Lincoln MKS model according to an announcement made at a Michigan automotive conference. Eventually all Ford models will receive this new 'flap' that will seal itself preventing fumes from escaping.
According to Mark Fields, Ford executive vice president and president of the Americas, "It eliminates the inconvenience of forgetting to put your gas cap back on after refueling." This new cap comes from Ford's NASCAR racing and has been used on the Ford GT sports car. Company spokesman Said Deep indicated that there is no timetable when all cars will have the new flap.