Posted By RichC on November 15, 2006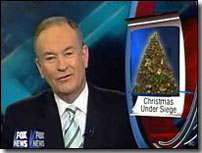 Walmart is encouraging associates to share an actual "Merry Christmas" greeting … a reversal of last years policy. Their change is being followed by most major retail stores including Sears, Macy's, Target and Kohls. One notable exception at this time is Best Buy, who according spokeswoman Dawn Bryant indicates they will continue with "Happy Holidays." She says, "We are going to continue to use the term holiday because there are several holidays throughout that time period, and we certainly need to be respectful of all of them." Unlike the majority of retailers mentioned above, Best Buy's company wide advertising will also omit any reference to Christmas. It will be interesting to if their against the trend 'politically correct' position pays off?
Interestingly, the reversal is based on what Walmart refers to as customer response to eliminating "Christmas" from the holiday

season, and suspect that more than one voice expressed discontent over trying to be political correct? An ongoing 'localized' poll seems to be pretty supportive of this years policies, I suspect it is reflective of most people in the country.
One of the loudest notables chastising retailers for dropping the word 'Christmas' last year was that of Bill O'Reilly. In print, on the radio and on his top rated cable news show "The O'Reilly Factor", he stirred up "the folks." Yesterday he had a 5 minute segment with a Walmart spokeswomen regarding their 180 degree policy change. All in all, traditionalist and conservative Christians may have lost ground politically in November (not that the GOP controlled legislature was reflective of their views), but at least they have not lost Christmas to the secular progressive movement. By the way, Bill O'Reilly's current bestseller, "Culture Warrior," would make and excellent gift — It's very thought provoking even if you dislike the author. (buy it from here, and a copy gets sent to the troops through Operation Shoebox!)