Posted By RichC on March 2, 2007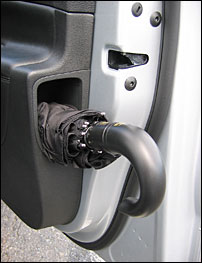 The rain has been coming down and it almost looks like spring is here in southwestern Ohio. Yesterday I soaked my leather seats tossing the umbrella in the rear door as I made a quick escape from the cold rain, so when I read an Autobloggreen Australian two part review on the Volkswagen Passat TDI, the umbrella holder caught my eye. (photo right) Its a nice touch in a car many diesel lovers in the US would like to test drive.
The two part review (Part One | Part Two) is written from a real world buyers perspective, more of a "why I (or why my father) bought this car." If you're not up to reading a two part 'personal' review, do yourself a favor and check out the great photos in the gallery.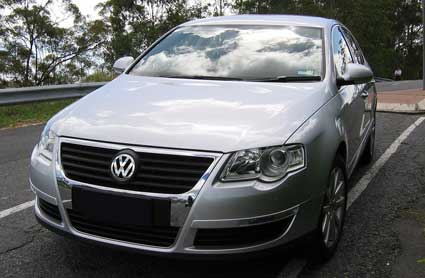 For my part, I'm just going to list a few of the features Dane Muldoon mentions and put them in my personal Pros and Cons columns.
Pros:
* TDI isn't priced much more than gasser (in Australia anyway)
* Middle of the road styling; not ostentatious
* Passat comes with a full-sized spare on an alloy rim
* Removable 'plastic' key inside keyless remote
* Hill assist feature, but is it really needed in a automatic?
* Automatic windshield wiper feature
* Dimming rearview mirror
* Dual Climate controls
* Comfortable cabin and seating (leather is attractive)
* Chillable Glovebox, center cup holders and umbrella holder
* Computer controlled ESP, ABS, EBD, and ASR (read article)
* Tire pressure monitoring
* Five star safety rating
* 6 speed DSG – 3-4 milliseconds for each gear change
* 2.0 liter 138 HP/236 lb-ft of torque
* Combined city / highway mileage = 35.6 mpg.
Cons:
* Passat 2.0 TDI Sedan 6 Speed DSG = AUD$44,990 (US$35,641)
* Size and looks very similar to lower priced Jetta
* 'Pricey' Key Fob used with push button starting
* Required Electric Parking brake; no manual parking brake
* Highway noise is a "bit high and wearisome"
* Not available in the US; no BlueTec yet