Posted By RichC on July 27, 2007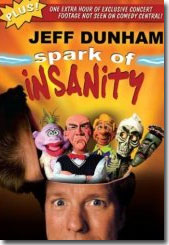 Five of us went to the Jeff Dunham comedy show last night and it was terrific. I highly recommend it if you enjoy laughing. The place was packed which surprised me for a Thursday night in Newport Kentucky — the Funnybone on the levee. Jeff Dunham, Achmed the Suicide Bomber, Peanut, the Jose Jalapeňo ('on a stick') and good ol' Walter were there to entertain us … a very enjoyable time was had by all. A particularly enjoyable theme in his recent show were his "light blue Toyota Prius" comments … my VW TDI and biodiesel friends will surely laugh at them; funny stuff. People living in an around Cincinnati are enjoying his show so much that the club has added an additional show at 4 PM on Sunday. If you enjoy comedy and ventriloquists, or have never seen Jeff, you should check it out.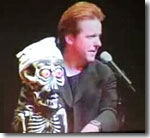 Jeff Dunham's new DVD will be released on September 18th or you can pre-order at most places now. His old stuff is also on Comedy Central, if you have cable or satellite TV Or do a search on YouTube and you'll be able to check him out.

(see previous post)