Posted By RichC on August 6, 2007

Let's see, how does a best selling summer paperback start … "It was a humid August afternoon, one of those days when even the suede leather trim on the luxury SUV sticks to your back …" or something like that.
😉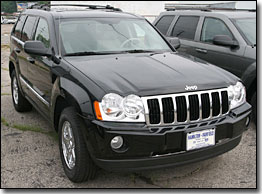 Its been sweltry in southwestern Ohio these past few days and it certainly was not the most appropriate day to be looking at cars … I even felt sorry for the salesman having to leave his air conditioned showroom to come out and meet potential customers. Nevertheless, my son and I drove up and down the new and used car mile looking at cars for his friend heading off to college. (so he says, but suspect he just likes looking at cars?) We happened to stop at a 'smallish' Jeep dealership and notice they had a new 2007 Grand Cherokee 3.0L diesel on the lot … a rarity; the general manager was the only one working and indicated that he had ordered it for a regular client who decided on a diesel pickup truck instead.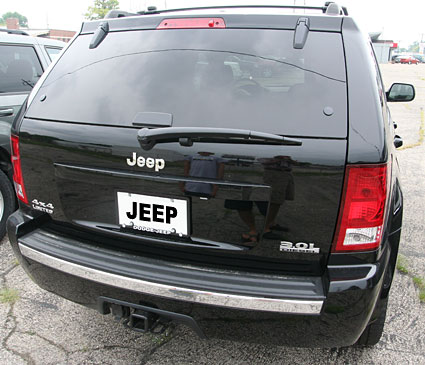 The Mercedes 6 cylinder diesel is in my opinion the perfect engine for this "trail rated" Jeep 4 x 4 SUV, and may be the first of many new diesels to start showing up in North America. It is an excellent way to improve efficiency while maintaining power and an excellent option for SUVs or CUVs. Diesels are far more efficient in producing power than their gasoline counterpart and better suited the interstate highways in the U.S. than the current gas/electric hybrid trend — in my opinion, and an Edmond's article.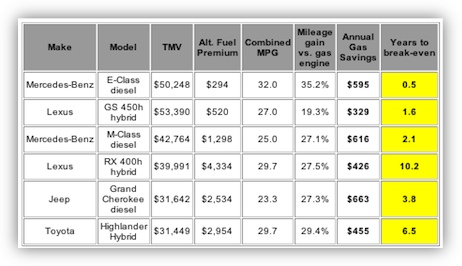 Most of us living in North America appreciate, a 'bigger' family vehicle that can safely travel "over the river and through the woods," whether it be to "grandmother's house" or just through a nasty winter storm or two. Jeep's generally come to mind for these challenging tasks and were building utility vehicles before the masses began to crave the SUV. The rest of the automotive industry has jumped into this American trend and so it is no surprise that Jeep is once again out front with a diesel in 'a North American' SUV. (they started putting a diesel in the Liberty CRD a few years ago, but recently discontinued)



Intro above aside, my first impression was not all that favorable. I gathered myself back together after noticing the $3700 diesel option on the rather high $43,645 MSRP sticker price — a sticker significantly higher than many other domestic and imported SUVs. As I did the walk around waiting for the salesman to suggest a test drive, I also noticed the rusty brakes and lack of a recent cleaning. (small dealership) I thought it odd to have a CRD sitting on the lot for a long time, but indeed its been sitting there since spring. The sales manager confessed that the Grand Cherokee was ordered for a regular client who decided on a diesel truck. He also noted that this higher priced Limited diesel model was 'difficult for them' to sell? (Hmm … for those interested, perhaps this particular vehicle would sell significantly below MSRP?)

Lg.
Lg.
Lg.
We opened the doors and the rear liftgate to let out the heat and he 'attempted' to start the long sitting diesel. No go … as air must have seeped it way into the fuel lines. After a minute or so of cranking it finally started, but not before sending a code to the computer that triggered a check engine light and some kind of 'lightening' bolt signal? Nevertheless my son and I were off on a test drive.

A couple observations in coming from a Honda Pilot were that the interior volume of the 5-passenger Grand Cherokee was much less and I missed the extra room storage between the front seats. This was probably due to the true off-road nature of the 'trail rated' Jeep verses the crossover build of the Honda. Unfortunately some of this 'overbuilt' Jeep SUV also found it way into the fuel economy numbers and my wish for an efficient diesel in an American SUV were dashed: the Jeep's numbers were only couple mile per gallon better than my 8 passenger 'gasoline powered' Pilot. The EPA sticker on the Jeep Grand Cherokee 3.0L CRD read 20 city / 24 highway. (still much better than its V-8 gasoline powered counterpart)


As for comfort and performance, the CRD was excellent. It had plenty of power, was very … I'll repeat … very quiet and was enjoyable to drive. Lock to lock steering and tight radius turning was excellent. (here's a link to my poor quality cellphone video demonstrating the 0 – 60 mph 10 seconds time and 0 -80 mph 14 seconds time) The Limited edition had a great Boston Acoustics sound system, backup sensors, a class 3 hitch, leather two tone power seats and a substantial number of electronic assist items like hands-free phones, compass, etc.

All in all, the Jeep Grand Cherokee CRD might be a exactly what some folks need to get up their driveway this winter and the mileage is definitely better than Jeep's gasoline version. Call me spoiled, but having the extra room and the 8 passenger capacity of the Honda Pilot, as well as lower price, is a bit more fitting for our families daily needs in the flatlands of Ohio. (now when Honda offers their diesel, I'm definitely interested! – link)