Posted By RichC on November 8, 2009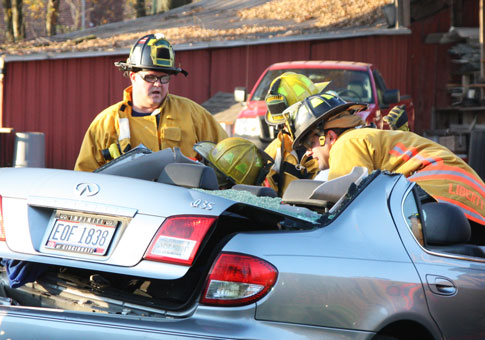 As I watched the paramedics and emergency workers waiting for the life-flight helicopter and cutting apart the car that a young man was driving on Bethany Road behind our house on Sunday morning, I couldn't help but feel for the boys' parents who stood looking on helplessly. From preliminary reports, he was heading home from spending the night at a friend's house and looked to have dozed off at the wheel. His car crossed the oncoming lane clipping the telephone pole behind our house and sending his Infinity into a ditch landing on the culvert on our rear driveway. Methodically the emergency workers removed the driver as several of us watched the life-flight physician quickly attend to the boy's leg; his femur was broken and looked to have been pinned in the wreckage. The doctor looked to have been suturing or tying off and blood vessel before moving him to the helicopter?
As I took a few photos of the accident, and the helicopter landing and taking off in our backyard, I stopped for a moment to say a prayer for both the young man and his mom and dad … as a parent, this is one of our worse nightmares. I'll be checking on the boy's condition and will edit below later.