Posted By RichC on December 9, 2009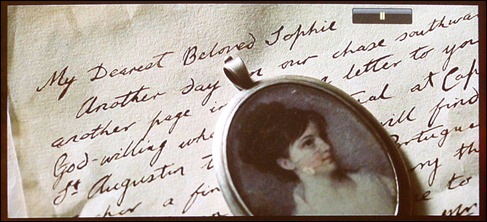 My goal is to have the home theater upgraded by the time my kids are home from college for their Christmas break. The new Optoma HD20 arrived and I anxiously replaced my older Sony 900U ceiling concealed projector. Besides 'still' having a ridiculous combination of remotes, the HD picture enhanced from a standard DVD from the LG Blu-ray player was excellent (photo 150 inch diagonal image above – click for larger – from Master and Commander). It will interesting to see what improvements will be noticed from a real high definition Blu Ray disc?
I needed to run a new HDMI cable from my equipment location since my previous cable was S-Video. It was disappointing to still see that the longer (25') cables are still high priced; I paid $40 online for my cable, which seems expensive for a wire until comparing them with those found locally. As for audio, I'm still tweaking my older surround sound system and am anxious to get the subwoofer back in operation.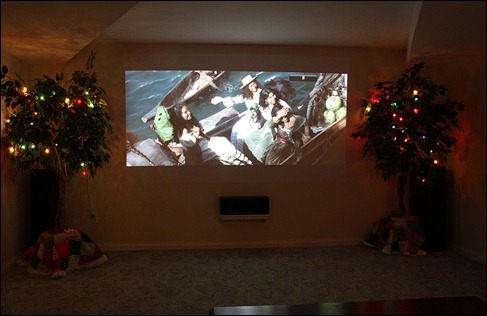 My initial impressions from the projector are good, although changing the image mode from 'cinema' to 'user' seemed to improve the brightness and contract for our room. This could have to do with my wife's decorating with Christmas lights (always on), or just the fact that cinema lighting is just dimmer due to the darkness in a giant screened movie theater? About the only time I noted the H20's fan was during shut down when it runs pretty loud for a few minutes of cool down, otherwise is not detectable during playback.
I also enjoyed and can recommend the LG BD370 Network Blu-ray Disc Player for those with Netflix accounts. It was quick and easy to navigate and streamed Netflix instant queued movies flawlessly and with very good quality. I'm sure the kids will enjoy watching movies this way. I'll attempt to follow up with a 'user' review after the holiday workout!
I do have a perfectly good 'non' HD projector available for sale, but no guarantee on how much longer the bulb will last. If you are interested make me an offer – new it was over $2000 about 10 years ago.