Posted By RichC on June 3, 2010
The stock market rebounded on Tuesday after selling on the government's comments regarding criminal investigations of BP yesterday. Since I regularly reflect on moves down, it is about time to acknowledge that their is still an appetite for value … in today's case, energy sector stocks.
Most stocks were up as the DJIA jumped 225.52 points, or 2.2% to 10249.54. Big movers were Exxon Mobil and Chevron 

of the energy sector, as well as American Express and Walt Disney — both up over 4%. For BP conditions in the Gulf haven't improved as the "Top Kill" operation to plug the Gulf spill failed. Today they are attempting to try a rubber sealed cap, although cutting the pipe one mile under the ocean is proving to be a big challenge. (Link to their response website)
Still, for investors worried about the economy and if or when they should invest in companies, today was positive. For companies themselves, seeing signs of recovery and a desire to hire will be a first step to improving unemployment woes for many Americans. The news yesterday that the Bank of Canada would be tightening interest rates also underscores that internationally we may be seeing a recovery.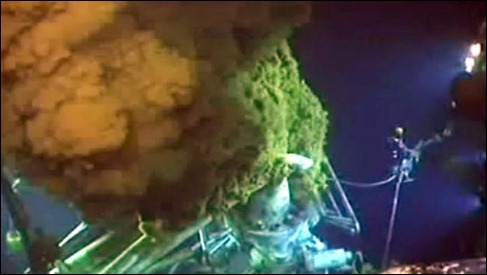 This grab taken from a BP live video feed shows the energy giant's latest attempt
to stop fluid escaping from the fractured pipe / AFP