Posted By RichC on June 1, 2017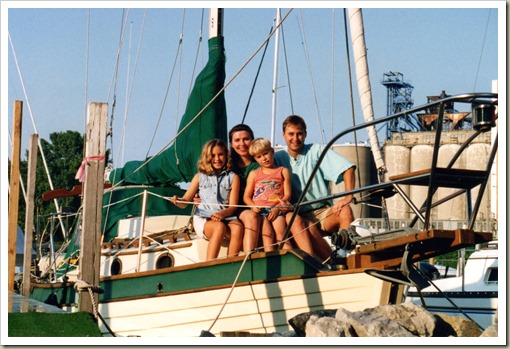 After searching through directories of a couple older computers looking for a document unrelated to the photo above, I ran across this picture of our family on our sailboat Tulla from the miid-1990s. I may have posted something (???) in a sailing related post years ago, but don't think so? Anyway ia #TBT (ThrowBackThursday) post is long overdue since I have neglected to post any #TBTs to the blog in 2017.
This particular family photo of Katelyn, Brenda, Taylor and Rich was on Lake Erie in Huron, Ohio aboard our NorSea27 which we eventually owner financed for the new buyer (risky?)… which by-the-way helped pay for the kid's college tuition (this was the second boat we sold for more that we paid). The Nor'Sea was a small, but solidly build boat with a separate aft cabin, which at the time I thought the kids would love; they preferred being all together. Who knew?

What originally attracted me to a smaller seaworthy cruising sailboat was that we were landlocked in Cincinnati and I had thought it could be put on a trailer and hauled without a special permit to new cruising grounds (unlike our previous boat Brenich or most other cruising sailboats). Alas, we did not take or make the time to do much sailing as with our kids were becoming teenagers; between school, their extra-curricular activities and friends … and our careers … Tulla didn't get the kind of use I intended (kind of like our current boat Encore). Ugh!