Posted By RichC on April 3, 2010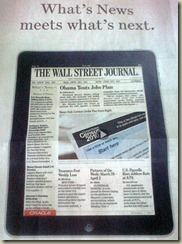 Once more Apple has inspired their devoted advocates into waiting in long lines for the chance to get a limited number of "first" iPad tablet computing devices — link. Many believe that the new product will usher in a new wave of computing, one that is slotted between the smartphone led by the Apple iPhone and the notebook computer. Personally I'm planning to wait for version 2 or 3, but am interested in the device as a better reader, one that makes the most of the written word as well as web based audio and video content.
The device is by all account excellent for a first release, but falls short in my list of important features:
No multitasking – several 'apps' at a time
No Adobe Flash – many videos and website use it
No USB port – external devices common to computers for both transfer and additional storage … not to mention an easy way to add a physical keyboard
No webcam or camera device
Still … I do love this gadget. It might not be a notebook computer killer, but might just do away with existing eReader devices like the Sony eReader, Amazon Kindle and Barnes and Noble Nook.
[flv:FN_Cavuto_iPad100402.flv 480 255]