Posted By RichC on April 5, 2010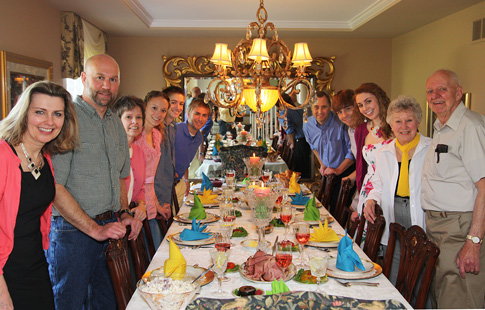 We had a nice gathering and Easter Dinner at our house with my side of the family on Sunday. A good time of animated talk was enjoyed by all. My dad brought along an album never seen by most of us from his time in Korea during the war — interesting commentary by him from a not so enjoyable time. His memories are not all that positive (I'd still like to borrow the album over a weekend to scan and archive the photos).
My wife Brenda was, as usual, an outstanding hostess and served up a delicious Easter dinner on a beautifully set table. Holiday gatherings are the few times of the year we enjoy eating off of her grandmother's china and setting the full table in the dining room. The seeming short day had  me wondering just how many more times everyone will continue to be able to make it … school, work, a family of their own and health?
By the time the day ended and the kitchen was 'being cleaned' I was the first to leave in order to drive my son back to school (not purposely to get out of cleaning up). It was one of the few time I've seen my son concerned about having time to study for an exam; he is showing maturity.
Today I wanted to be up to watch one of the final Space Shuttle launches. Discovery rocketed on a beautiful pre-dawn mission — the last — to the International Space Station for STS-131. As one of the memorable lines of early NASA space exploration goes … "Godspeed" Discovery.