Posted By RichC on September 12, 2010
A couple CinciTDI guys stopped over on Sunday afternoon and we installed a Dieselgeek Panzer plate on Tim Hunter's Volkswagen Golf TDI. He waited a bit too long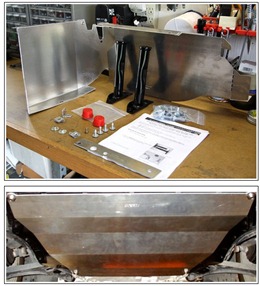 (in my opinion) as his TDI is now over 180,000 miles,  but his VW is still a solid little commuter. His little hatchback certainly doesn't fit his growing family all that well anymore (congratulations on the adoption of your new daughter). 
Having installed both the steel skidplate and earlier versions (2006/2009) of the Panzer plate (with and without the 'Full Metal Jacket' option), Jim Royston of Dieselgeek has continued to improve the Panzer plate and installation instructions. I'm of the opinion that a skidplate is an essential upgrade for any Volkswagen TDI owner — the cast aluminum oil pan is just too vulnerable under the flimsy plastic 'noise' shield.
It was also great to have Eric's mechanical expertise which helped us turn our one person 2 hour project from a two person 3 hour one, into a three person 4 hour project. So goes getting guys together to work on cars while football is on the garage TV!
🙂
We also enjoyed being entertained by a couple of Tim's kids running around the backyard; they did enjoy riding around on the John Deere lawn tractor. It was also obvious that I'll need to get the MGB ready for Tim's 4 year old's Chicago road trip.