Posted By RichC on October 4, 2010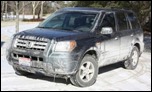 I've tracked nearly 200 fuel fill-ups while driving a 2006 Honda Pilot 4WD and have been wondering if the new tires have impacted my efficiency. I do know that the new Michelins have significantly better wet traction than the long lasting Goodyear Integrity tires that came on the SUV. In creating a quick chart, after downloading the raw data from Fuelly, it is difficult to see a noticeable trend.


The low dip in the middle of the chart was due to pulling a trailer.
The slightly more aggressively treaded Michelin LTX MX2 tires may have slightly lowered my 20.6 lifetime MPG. In comparing the high points on the right side of the chart, it does look as if MPG may have dropped a little more than 1 per gallon, at least for highway driving. Overall though, I'm happy with the higher priced LTX MX2 tires as the ride is smooth and quiet yet is offering better wet traction – we'll soon see how they perform in winter weather.