Posted By RichC on October 16, 2010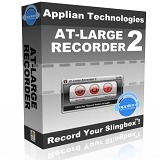 Not that I've been all that regular at posting a "tech tip" on Fridays, but I did try out a new video recording program this week. It is called At-Large Recorder 2 (Windows only) by Applian Technologies and is a DVR of sorts for the Slingbox … which is a piece of hardware that broadcast a TV signal from a home/office to connected devices either on the local area network or via the Internet while away.
I don't use my Classic Slingbox all that much, but it has been nice to be able to tune into a breaking new story or event while traveling. The At-Large Recorder adds capture ability to the hardware by saving a stream as a .asf file … not all that useful for most devices without running them through a converter program (it would be night to have that included in version 3).
The interface enables one to set the date, time and length of recording along with a few minor quality tweaks. Multiple instances of the application can be opened in order to schedule different programs … one at a time though. Once recorded,  pushing the 'play' button bring up the recorded programs and offers a playback utilizing Windows Media Player (or manually you can use VLC or another appropriate media player). Quality seems to be the weakest link in using this for anything where quality is desired, but then again, the old Slingbox may not offer the HD quality of newer versions? I'm not sure I'd recommend spending $69.95 for it …  the trial version will record 5 minutes. I'll include a short video clip captured below:
[flv:cvsissue.flv 350 175] –