Posted By RichC on January 16, 2011

Once upon a time, I packed a small portable printer — Canon i70 — in my car when I traveled, but found it to be a hassle to keep it working. Fast forward to 2011 and I have found a possible use for a small lightweight printer – on the boat. Who knows if it is worth trying to keep a printer working onboard, but since it has been just sitting around collecting dust, it is worth giving it a try.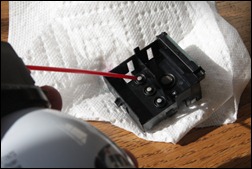 The first of a couple of problems were the dried up ink cartridges: easy to correct, pitch the old and buy two new semi-expensive name brand replacements at one of the big box office stores (I didn't want to wait around or could have shopped online). Problem number two, the printheads (particularly the Magenta) were plugged with ink causing spotty or no ink coverage. Often running the maintenance cycle or deep cleaning cycle will repair this, but many times it will not. Seeing that new printheads can nearly run the cost of a new printer, an attempted cleaning was in order.
I used isopropyl alcohol dabbed on the small screen area with a swab and a saturated paper towel on the bottom. Once the alcohol has cleaned most of the ink, try a little compressed air on each of the printheads. This will force the solvent (alcohol) and liquid inks through the printhead; it may also take several cleaning attempts to get all of the ink cleaned out. After a quick reassemble and both and alignment check my Canon i70 is working again.