Posted By RichC on July 4, 2011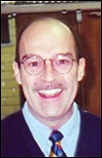 I was sad to hear of the passing of one of my high school teachers, Steve W. Weadock, 10/23/1948-06/21/2011. According to my mom, he had been battling cancer and I knew that his prognosis wasn't all that promising.
Mr. Weadock was an attentive and caring teacher at a time of college preparation and helpful to me and a of my high school cohorts during our junior and senior years. I appreciated my mother sending the obituary from the local Sidney Ohio newspaper an only wished I would have connected with him a few years later. He was an excellent teacher and someone recognized for a life devoted to his community. 
6/23/2011

Stephen "Steve" W. Weadock, 62, of 1218 Taft St., passed away Tuesday, June 21, 2011, at noon at his residence. He was born on Oct. 23, 1948, in Celina, the son of the late Jerome Weadock and Ruby (Huffman) Weadock, who survives in St.Marys. Along with his mother, he is survived by a sister, Mrs. Ruth (Ronald) Langsdon, and one brother, Michael (Barbara) Weadock, both of St. Marys. One sister, Virginia De Mora, preceded him in death. Steve was a longtime member of Sidney First United Methodist Church, Sidney Moose Lodge 568, Sock and Buskin theater group, First United Methodist Church Choir, Methodist Men's Choir, Tar Hollow Church Camp, where he was a counselor, Key Club adviser at Sidney High School, Mock Trial adviser and was active in the Shelby County Democratic Party. Steve was an educator at Sidney High School for 30 years and retired in 2001. Funeral services will be held Saturday at 10 a.m. at the Sidney First United Methodist Church, with the Rev. Dr. David Chivington officiating. Burial will be in Elm Grove Cemetery in St. Marys. The family will receive friends on Friday from 4 to 8 p.m. at the Cromes Funeral Home, 302 S. Main Ave. The family suggest that memorials be made to Tar Hollow Church Camp in care of Sidney United Methodist Church, 230 E.Poplar St. Sidney, OH 45365 in Stephen Weadock's memory. Envelopes will be provided at the funeral home. Condolences may be expressed to the Weadock family at our website, www.cromesfh.com.