Posted By RichC on December 19, 2011
For those living south of the Mason-Dixon line, a big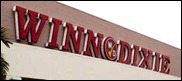 merger occurred today with the grocery chain Bi-Lo purchasing the larger Winn-Dixie Stores for $560 million. (link) The smaller privately own company purchased the 480 store Winn-Dixie chain and included 380 pharmacies as well. The news bump the share price up 70% with the $9.50/share cash price. The combined company will cover eight states and have about 690 stores  with 63,000 workers and existing Winn-Dixie store will retain their name due to strong name recognition.
"With no overlap in our markets, the combined company will have a perfect geographic fit that will create a stronger platform from which to provide our customers great products at a great value, while continuing to offer exceptional service," said Bi-Lo Chairman Randall Onstead.

Winn-Dixie's board has unanimously approved the deal, which is expected to close in the next 60 to 120 days.

The management structure and headquarters location have yet to be determined, but the companies anticipate keeping locations in both Greenville, S.C. and Jacksonville, Fla.

Winn-Dixie emerged from bankruptcy protection in 2006. In its most recent quarter, Winn-Dixie's revenues rose 3 percent, yet the company posted a loss of about $24 million.

Shares rose $3.79 to $9.22 in early trading.
AP Photo/DAVID ADAME