Posted By RichC on March 4, 2013
The 2014 Jeep Grand Cherokee diesel has a hill to climb if you are looking to save money on fuel, but with more torque than a hemi, "climbing the hill" is easy!
The new Jeep CRD diesel is receiving mostly positive reviews (The Fast Lane Car video above) from car journalists, but at $50,000, a Jeep diesel SUV is going to be difficult to justify based on saving fuel alone; I doubt it will be sitting in my driveway anytime soon. Without actually seeing or test driving the 2014 Grand Cherokee CRD diesel, my paper calculations show that it is a pretty expense way to go a little further on a gallon of fuel … still, the 420 lb.-ft. of torque, 30 mpg EPA highway numbers and 7.7 zero-60 times look appealing.
Unfortunately after some rough chicken-scratching (below) when looking at the gas (24 mpg hwy) and new diesel (30 mpg hwy) and after the $4500 diesel add-on sticker price, it is going to take a lot of miles in order to justify such a premium. In fact it is going to take roughly 2 million miles of driving based on today regular gas vs. diesel fuel prices (plus $100 in Urea every 10K). So IF you are only interested in fuel savings you might want to wait for something like the Volkswagen CrossBlue. On the other hand, those contemplating towing or serious off-road climbing may not be as disappointed.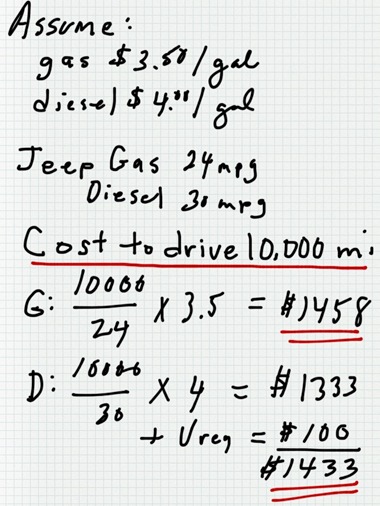 Trying the new Penultimate app for the iPad (by Evernote)