Posted By RichC on March 25, 2013
In the 1980s I worked for a division of Knight Ridder Newspapers in Akron, Ohio call Portage Newspaper Supply Co. (now McClatchy Company). Portage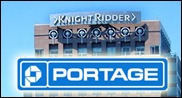 handled central purchasing for the chain's 58+ newspapers with nearly everything that was needed to produce the printed paper, as well as a few independent products (I believe all that is left from the company is the reporter's notebook business???)
Being one of the few employees with a computer background in those years, I was drafted into helping set up and experiment with the electronic delivery of "graphical" artwork (very new concept) using the personal computers, modems and the phone lines (we were zipping along at 300 baud). The idea that a graphic artist could create a computer generated images and could share this with all 58 papers in minutes (hmm, I recall longer) was revolutionary. Eventually this "electronic media" would launch a think tank division that in a few years envisioned handheld tablets … while the rest of us were thinking re-writable/recyclable electronic paper was the future.
In 1994 media company Knight Ridder made a concept video of a tablet device with a color display and a focus on media consumption. The company didn't create it as a commercial product because of deficiencies of weight and energy consumption in display technology.
A few days ago, I saw this 1994 news clip and was shocked at how closely the company had envisioned today's Apple and similar tablet computers – 15 years or so before they became reality.