Posted By RichC on April 18, 2013
I've been sort of monitoring the sharks along the Florida coast for a couple years and with the advanced GPS locators tagging a few Great Whites, the migrations are amazing. A story from the Key West Keynoter newspaper seems to have one even farther south than Mary Lee.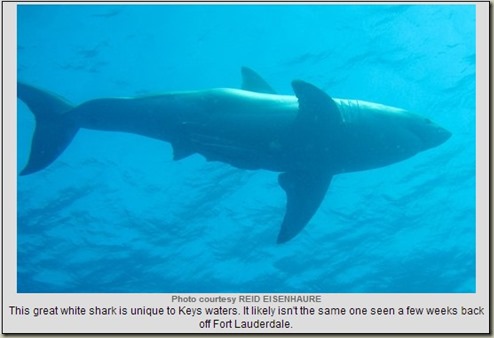 A Massachusetts man diving with his father in the Keys last week captured on film what experts say is a great white shark swimming off Islamorada. While there have been reports of fishermen seeing and catching great whites in South Florida, it is extremely rare that one is spotted underwater by divers.

"Certainly looks like a white shark from the picture," said Mahmood Shivji, director of the Guy Harvey Institute at Nova Southeastern University. "White sharks are occasionally captured by commercial and recreational fishers in South Florida, including in the Keys, but rarely seen while diving. How cool."

The shark's photograph was taken by Reid Eisenhaure, 33, who was visiting the Keys with his father Ward. They were diving last Wednesday with four other divers off the Eagle, a 287-foot cargo ship intentionally sunk as an artificial reef about six miles off Lower Matecumbe Key in 1985.

The shark's size is not clear. Dave Champagne, owner of Key Dives, the charter dive shop that took the group to the Eagle that day, estimates the shark is between 12 and 15 feet long. Shivji, who is also an oceanographic professor at Nova, said the shark is female, but its length is too difficult to judge without a size reference.

The Eagle lies in about 110 feet of water, and Eisenhaure saw the shark while ascending and taking a second decompression stop about 15 to 20 feet below the surface. He said the shark was cruising about 12 feet above his head when he took its picture.

"I was amazed and excited to see it and also a bit nervous, knowing the chances that it would attack were slim, but that if it did, it could be very bad," Eisenhaure said.

The group of divers calmly stayed together as the shark appeared to be checking them out, Eisenhaure said, adding that the large fish "showed no aggression."

Eisenhaure waited about a minute after he lost sight of the shark before surfacing with the rest of the group.

"The whole thing was so brief in the scheme of things, but it's something I will never forget," he said. Eisenhaure's been diving since he was 14 years old and has dived and snorkeled in waters from Maine to Florida, all over the Caribbean, and Hawaii. But his April 10 dive will likely be his most memorable.

"While I have seen sharks before, they have always been nurse sharks or reef sharks, and the experience was nothing like seeing the great white," he said. "It's one of those things that you can see on TV a million times, but you will never really know the feeling of being in open water with one until it happens, and it's quite a thrill."

There have been reports on social media and online diving forums that the shark was tagged in Cape Cod, Mass., and spotted in Fort Lauderdale and Key Largo. But Shivji said after looking at the photo that there is no satellite tag on the shark's dorsal fin. He doubts this shark is being tracked.

While great whites are known to be highly migratory in some parts of the world, Shivji said "there is no credible documentation, yet anyway, of South Florida being part of the migratory route."