Posted By RichC on January 9, 2013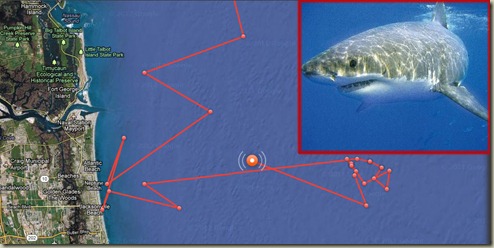 Jacksonville, Florida beachgoers (although it is a bit cold for swimming) have had a large visitor named Mary Lee the last few days. I seems a 16-1/2 foot 3500 pound great white shark has been wandering very close to shore. Ocearch, a shark research group, has tagged and is tracking "Mary Lee" on a website and Facebook page. The nonprofit group is dedicated to shark preservation and was surprised to see the GPS signal moving this far south and this close to shore (below). Founding chairman Chris Fischer tagged the great white shark off Massachusetts in September, where they are more common, but Mary Lee has been moving steadily south this year.
After seeing the location move near the surf and Jacksonville beaches, Fischer decided to call the Jacksonville Beach police from his home in Park City, Utah just to make them aware. The police took the information seriously and stopped to update a lifeguard station in the middle of the night to be sure there were no swimmers in the area. It was a cold night, so there weren't any … but sent out a warning.
"Due to the size of the shark and the potential dangers we are recommending at this time that people stay out of the water until the shark leaves our area."