Posted By RichC on April 3, 2014
As the U.S. continues to delay and "study" the Keystone pipeline as a way to efficiently move North American crude oil from east of the Rocky Mountains in both Canada and the Dakota Bakkans to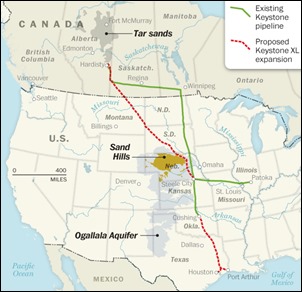 Texas refineries, other options and pathways are moving forward. Energy pipeline company Kinder Morgan Energy Partners L.P. ($KMP) held a public hearing on their expansion project that will carriy tar sand crude from Alberta to the Canada's Pacific Coast which as stated would "help Canada diversify its energy markets beyond the U.S." Good for Canada and China; not so beneficial for the U.S. … or "in my opinion" … overall world environmental issues. Canadian regulators will decide "no later than early July 2015" on the $5.4 billion Trans Mountain expansion.
As those in favor of the Keystone have pointed out, if the U.S. doesn't participate, oil will still be moved, refined and used. It is a puzzle to me how it can be seen as environmentally safer to pipe oil across the Rockies and ship it across the Pacific Ocean in tankers than having U.S. regulated companies pipe it from Alberta or North Dakota rather than shipping on rail or truck … not to mention the economic benefits.
Canada Regulator to Hold Public Hearings on Kinder Morgan Pipeline Expansion

By Paul Vieira
6:04p ET April 2, 2014 (Dow Jones)

Canada's main energy regulator said Wednesday it will hold public hearings into Kinder Morgan Energy Partners L.P.'s planned expansion of a pipeline that carries crude from the Alberta oil sands to Canada's Pacific Coast.

The regulator plans to issue a recommendation on the project's future no later than early July 2015.
The $5.4 billion Trans Mountain expansion is one of a number of proposed projects that would ease the bottlenecks Canadian oil producers face in getting their product to market. The expansion is among the most eagerly awaited since it accesses a West Coast port and would help Canada diversify its energy markets beyond the U.S.
The National Energy Board said it would first hear evidence from aboriginal groups, beginning this August. Public oral hearings will start in January next year.

The regulator will make its assessment on the expansion "based on the evidence presented before the board," Sarah Kiley, a spokeswoman for the NEB, said during a conference call.

The regulator identified 12 issues its review would focus on, among them the impact on the environment; effects on marine shipping; aboriginal interests; and contingency planning for spills and accidents.

Aboriginal and environmental groups have vowed to block the expansion, citing the risk of a spill and the need to curb development of the Alberta oil sands.
Kinder Morgan has said up to 34 oil tankers a month will be needed to ship oil from the expanded pipeline, up from just six a month currently. Much of that additional supply will be shipped to markets in Asia.

In December, Kinder Morgan's Canadian unit filed a 15,000-page application with the NEB to nearly triple the size of the Trans Mountain line that already carries crude from the landlocked Alberta oil sands to the Pacific Coast. The plan would boost the capacity of the existing pipeline to 890,000 barrels from 300,000 barrels a day.
The expansion involves twinning, or building, 610 miles of new pipeline along the existing 715-mile route between Edmonton in Alberta and Burnaby, British Columbia, a suburban community just outside Vancouver.

Energy producers such as Exxon Mobil Corp. affiliate Imperial Oil Ltd., BP Canada Energy and Suncor Energy Inc., Canada's largest energy company, are looking to the Trans Mountain expansion and other proposed pipelines–most notably TransCanada Corp.'s Keystone XL–to help ease the bottlenecks that have led to steep discounts for Alberta oil on global markets.

The NEB said more than 2,100 individuals, organizations and businesses applied for intervenor status at the Trans Mountain hearings. It accepted 400 of those applications.

The NEB won't issue the final call on the pipeline. That rests with the Canadian government, which will have three months from the time of its recommendation, the regulator said, including a decision to refer the ruling or any conditions back to the NEB for reconsideration.

Write to Paul Vieira at paul.vieira@wsj.com
Dow Jones Newswires
April 02, 2014 18:04 ET (22:04 GMT)
Copyright (c) 2014 Dow Jones & Company, Inc.