Posted By RichC on July 29, 2014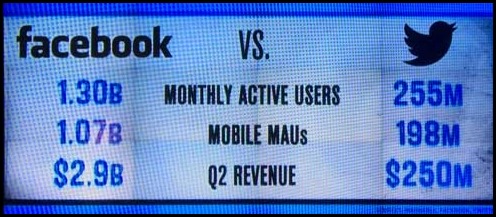 My morning routine includes turning on CNBC for my business news, trading and investing "fix" and the segment on the Facebook vs. Twitter social networking challenge peaked my interest. As expected, the focus was primarily which stock would make an investor the most money. Obviously Facebook has a significant lead both in platform maturity and revenues … and looks to have the business model figured out. So from the perspective of a company that is "working," $FB would make the most sense as an "investor." From the "trader" perspective, $TWTR has a better chance to make a high percentage move on any news … partnership, earnings, etc. So Twitter in the short run and Facebook for a company running on all cylinders.

EDIT 4:30PM: The afterhours buzz is "all a Twitter" after some positive news … $TWTR stock is up over 30% in afterhours trading.
SAN FRANCISCO (MarketWatch) – Twitter Inc.TWTR +29.65% on Tuesday reported a second-quarter loss of $144.6 million, or 24 cents a share, compared with a loss of $42.2 million, or 32 cents a share for the year-earlier period. Revenue soared to $312.2 million from $139.3 million. On an adjusted basis, the San Francisco-based social network reported a profit of 2 cents a share. Analysts polled by FactSet on average were expecting the San Francisco-based social network to post a loss of a penny a share, on revenue of $283.3 million. Twitter also reported 271 monthly active users in the second quarter. Analysts were expecting 267 million monthly users. Twitter shares rallied more than 24% after hours