Posted By RichC on August 13, 2014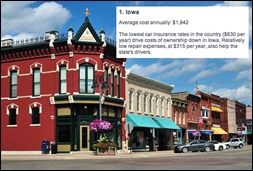 As both an automotive enthusiast and budget minded "frugalist," I regularly grumble and complain about the cost of owning a car cars. From insurance and registration each year to the ever rising price of a new car and the fuel pumped into it, there seems to be no end to forking over dollars. Recently both my wife and I renewed our Ohio driver's licenses and shook our heads at the longish DMV waits, only 4 year issues between renewals (some states are 10 years) and bureaucracy that we are willing put up with year after year. On the plus side, we now have efficient online auto registration and plate renewals and don't stand in line for registration ever year.
Well I "was" complaining until I heard from my out of state grown children talk about their new states bureaucracy and fees. Hmm, as Ohioans we probably shouldn't complain as corroborated by CNBC. They posted a 5 cheapest states to own a car list … and Ohio was #2 right behind the least expensive, Iowa.