Posted By RichC on August 12, 2014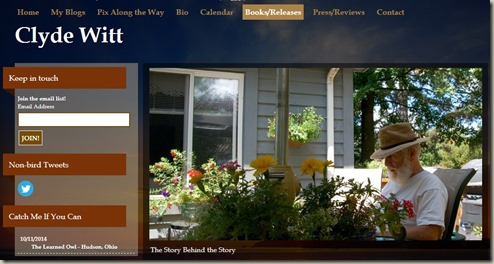 A long time client and now retired friend, Clyde Witt, is publishing his first novel. He has always written stories in a style appeals to me … although his politics still needs some work (a personal joke).  I'm anxious to pre-ordered a copy of his book to read and review. One of the advantages of working in the printing and publishing business for 30 years is running into great writers who are often go unnoticed.
Lost in the Tallgrass, published by The Write Place
The 2014 Write Place Book Contest winner

by Clyde Witt

"Rusty decided to leave after supper, under the cover of darkness when cool evening air would make travel less of a hardship and more of an adventure …"

So begins fourteen-year-old Russell Starke's tale of leaving home to fulfill his dream to become a cowboy-and to find his runaway brother. The year is 1916, the dawn of a new age of transportation in a country on the brink of war, and Rusty's odyssey takes him from the motorcar-clogged streets of his Indiana home to the endless prairies of Kansas. He finds himself in a world where people who have forgotten how to dream are quick to tell him how to run his life. He must learn fast that seduction is not love, a romantic notion of the past is not a promise for the future, the kindness of strangers is not always to be feared, and love is something shown, not words spoken. Rusty discovers that the Wild West is more wonderful-and more dangerous-than he ever could have imagined.

Author Clyde Witt spent 25 years with Penton Media in Cleveland, Ohio, and retired as editor-in-chief in 2008. A graduate of Kent State University, he is married to Susan Jones and has had his work published in numerous magazines and newspapers since 1968. View more information about Clyde at his website, www.clydewitt.com, or email him at  cewitt790@gmail.com.

Download an excerpt from the novel here.