Posted By RichC on October 6, 2014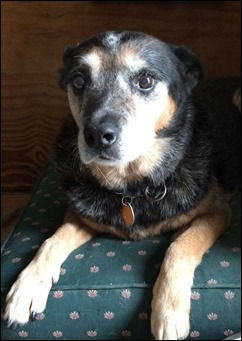 It is shocking that our Australian Blue Heeler Cattle Dog is still hanging in there after 17 years of loyal companionship. Wow … that getting up there for this breed … or any dog.
Our Tootsie is deaf (kind of like her owner) and  her eyesight is beginning to fail as well. Her hip displasia prevents the rambunctious demeanor that was common when the kids were home, but she never complains.  I had her in to see what could be done about her eyes, but not much since it is called Progressive Rod/Cone Degeneration (PRCD). So for now, she will need to be content with sitting around and use that nose to find treats … or that ideal spot to do her business.



It seems that just the other day I was posting about her 13th birthday – time flies.  So here's a Happy Birthday to our Tootsie… I saved a couple rib bones for you!