Posted By RichC on October 7, 2014
Summer has passed without giving much of a thought to turning on my HF rig or making any amateur radio contacts. The recent Last Man Standing amateur radio event had me firing my ICOM IC-718 and connecting my upgraded SCS PTC-IIe Pactor modem. Obviously using it for "slow" Winlink email is not a priority when I'm connected at home, but it might be the best and least expensive way to exchange email IF I ever go cruising on Encore.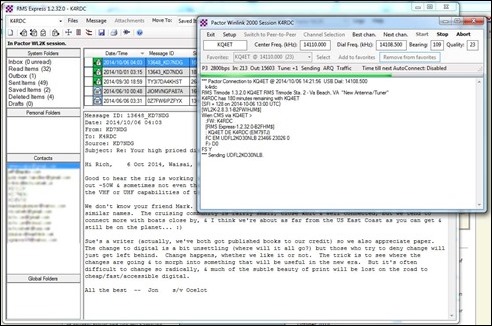 My recent exchange has been with Jon Hacking aboard s/v Ocelot in Indonesia. He is a well seasoned cruiser who has been living aboard since 2001 and with his wife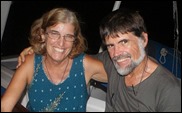 Sue raised their now two adult children while traveling aboard their 48' Wauquiez designed catamaran. He figured out how to make it work … and I enjoy conversations with them.
Recently I repaired my 20-meter di-pole antenna that runs along my east-west eves and then angles slightly southwest to my chimney. It gives me a solid enough signal to connect with several Winlink Pactor stations on the east coast as well as to one in Florida. The above RMS Express email client(FTP) illustrates being able to stay connected at 2800 baud (yes I know that is slow by broadband standards but fast for my Pactor modem) and sent a compressed photo to Jon. I can't say that is not something one really wants to be doing over HF using Winlink email, but it can be done where there isn't any Internet … and it is free.