Posted By RichC on June 23, 2015
S O L D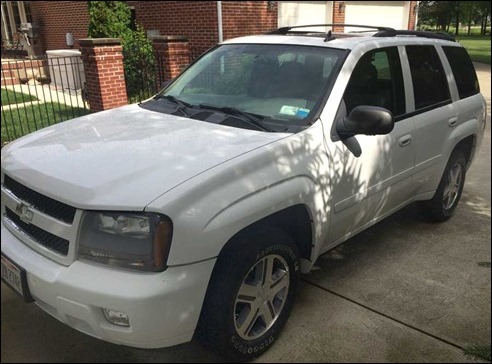 My mother-in-law no longer drives her 2008 Chevrolet TrailBlazer LT 4WD and we've decided it is time to sell it.  It would make a great family car for somene who is looking for a solid vehicle. The V-6 five-passenger SUV has a low 62,000 miles and spent most winters in Florida. The interior is leather, has a sunroof, 4-wheel drive and tow package. There is a scrape on the front passenger-side plastic bumper cover and dimple in the rear bumper plastic. Those are the only issues.
Here are a few photos: 2008ChevyTrailblazerLT4WD
On the scale — Fair, Good, Very Good, Excellent … Kelly Blue Book (see below) has it priced at $11,300 for "Good Condition" … so in my opinion it is a pretty good buy at $11,000 (and perhaps more-so for me than you since I know the entire maintenance history, etc). Help me get this off our insurance policy … and save me from renewing the registration/plates for another year!