Posted By RichC on June 22, 2015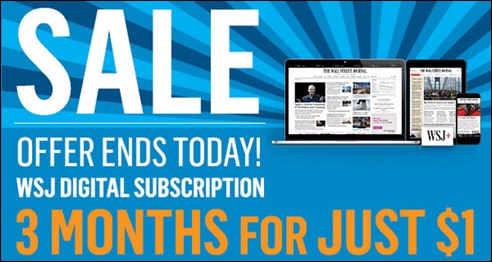 For those of you who are NOT Wall Street Journal readers, but have always wanted to try it out, here's your chance. The $1 price is about as cheap as I've ever seen from WSJ.com  … for a 3 month introductory deal. The yearly or normal monthly subscription is higher and can be hard to justify for all but the most loyal WSJ readers. A a truehearted reader, even I can't justify $28.99/mo or the $260/yr price as I lamented about it back in 2012.
The $1 for 3 months will get you the digital only version (works great on iPads and tablets), but for $4 more they'll also include the newspaper. The catch is that Dow Jones will charge your credit card the $28.99 price if you do not call to cancel your subscription – 1-800-568-7625.
LINK (valid until June 22)
If you are a little nitpicky about remembering to call on these automatic bills … then use a virtual credit card number like those offered by Citibank. Sneaky, eh?