Posted By RichC on August 14, 2015
As if the past couple of weeks were not challenging enough, my dad's body finally had enough. He didn't want any further medical miracles … or poking and tweaking to keep systems going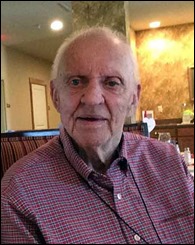 AND had previously put in place a detailed "Living Will" in regards to what measured he did not want. After last weeks stroke and brain bleed, it was time.
My brother Ron, his wife Claire and I rotated shifts allow with Wilson Hospice in Sidney Ohio to make the transition from living to dying as gentle as possible. I spent as much time as I could both in the last few years and last few dad's (in between "nursing" Brenda) to be with him. My brother's wife was their along with a nurse for his last few breaths … it was a peaceful passing  and that is what I prayed for … thank you God.
For him the struggle is over … for us, there are a few things left to do. To the right is the last photo of dad on August 3rd … it was nice to have had those hours with him. We will have a memorial service and burial on Monday morning August 17th and it will be slightly different from my mom's showing and service and that was dad's choice; he chose to be cremated and buried on top of my mom's grave (she would not have approved … so we were not allowed to tell her back in 2012.)  When over (weeks and months ahead), then begins the arduous task of sorting through things, finalizing his affairs and selling his home. This time, unlike with mom, it won't be ending a chapter, but closing a book.
My Dad's obituary below.
RONALD D. "BUD" CORBETT, 86, of 1150 W. Russell Road, passed away at 9:07 PM Wednesday, August 12, 2015 at LanePark of Sidney.  He was born on January 24, 1929 in Toledo, Ohio, the son of the late Earl and Helen (Hirth) Corbett.  On September 7, 1957 he was married to Jeanine A. Bluhm, who preceded him in death on December 17, 2012.

Bud is survived by his two sons, Richard D. (Brenda) Corbett of Liberty Township, OH, and Ronald D. (Claire) Corbett of Tipp City, OH; four grandchildren, Katelyn (Drew) Oostra of Wayzata, MN, Taylor Corbett of Cincinnati, OH, Keira (Ben) Ankrom of Columbus, OH, and Jaben Corbett of Huber Heights, OH; and one brother, Earl Corbett.  He was preceded in death by two sisters, Gloria Schwartz and Patricia Mayo.

Mr. Corbett was a veteran of the United States Army and served during the Korean War.  He worked for Schindler Elevator Company in Toledo and Sidney for 43 years.  He was a past member of the Sidney American Legion Post 217, the Senior Center of Shelby County, Sidney Gateway Squares (Square Dancing), Vintage Car Club and the Management Club of Sidney.  Bud was a dedicated husband and father, who enjoyed time with family and friends, traveling, old cars, shorelines and lakes. 

Bud was a member of St. John's Lutheran Church in Sidney where a Memorial Service will be held on Monday, August 17, 2015 at 10:30 AM, with Rev. Jonathan W. Schriber officiating.  Burial with military honors by the Sidney American Legion Post 217 will be at Graceland Cemetery.  The family will receive friends on Monday from 9:30 AM until the time of service at the church.  Memorial contributions may be made to Wilson Hospice or St. John's Lutheran Church in Bud's memory.  Guestbook condolences and expressions of sympathy may be made to the Corbett family at our website, www.cromesfh.com