Posted By RichC on January 22, 2016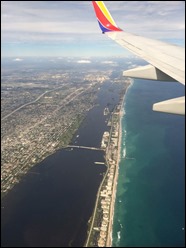 Noticing the weather back home this past week, it was not a bad few days to head down to Florida for a couple more boat repairs.
High on the list was to remove and send my Lewmar Superhatches (predecessor to the Ocean series) off to Select Plastics in hopes THEY can prevent them from dripping; I failed.  Leaking hatches and ports has been an ongoing issue for Encore and it has been even worse lately (more rain in Florida?) I've held off repairing them as the cost has been prohibitive … and even now I'm hesitating. It's not only the price, but the timeframe that is frustrating … I'm hoping they will be back sooner rather than later, but according to Tony, this is their busiest time of the year. That make sense since boats in the northeast are under cover for winter.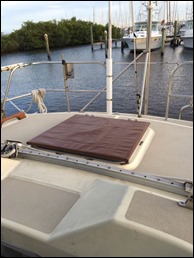 After removing the aft and forward larger hatches, I cut squares of plywood, wrapped them in "attractive tan/brown tarp" material and "dogged" them down over the hatch frame with a single center bolt and a cross beam inside. Hm, it's really dark in the cabins now and we've lost our ventilation (the reason I haven't taken the smaller one out of the main salon).