Posted By RichC on June 20, 2016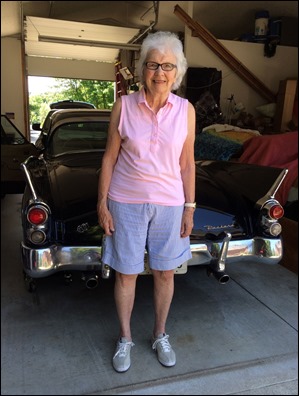 We had another outstanding summer weekend weather-wise and enjoyed every minute of each day. I spent my Father's Day afternoon working on the BMW X5 35d and installing a 2" hitch receiver (upcoming post). Getting all the snapped and clipped on trim off was the biggest hassle … but it is done.
We enjoyed grilling ribs (again) in the afternoon since Taylor came over to wish me a Happy Father's Day after his weekend with friends up at Lake Erie in Vermillion, Ohio … the place we first kept our Brenich in the early to mid-1980s. He took his car into the dealership for repairs so was driving a loner BMW X1 — of course he loved it! Katelyn called too (Drew texted early) and I enjoy a nice long talk with her (we do miss seeing them).


 
Grandma Howard left was with us for the weekend so I took the opportunity to send a photo to the sisters mentioning the "old relic" … the 1958 Packard Hawk in the background (above — what were you thinking?) Ha!
Almost forget to mention … it all started off with my buddy Jeff bringing over a bottle of Lattitude 50 wine from the Grey Monk Estate Winery for dinner on Friday night — leftover memories from our trip to Canmore, Alberta from our Canadian Rockies trip in 2005 … GREAT MEMORIES! Thanks Jeff.