Posted By RichC on August 24, 2016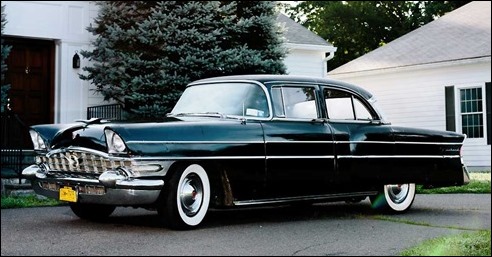 The weekly "My Ride" article by A. J. Baime in the Wall Street Journal has become a sentimental favorite column as besides highlighting a Mercedes a couple weeks ago, did the same for a Packard this week. The story plots are almost always as unique as the  cars themselves … although this one touches a sentimental spot with me (not that I have room, but do like this 1956 Packard Executive – fewer than 3000 were made before closing the Detroit factory in the weaning days of Packard). I think for most automotive enthusiasts, the demise of such a treasured American company and brand,  as well as many other, were dark days for car-lovers — "Not since the 1930s had so many makes disappeared: Packard, Edsel, Hudson, Nash, DeSoto, and Kaiser."
A military veteran explains why she splurged on a 1956 car that represents the end of an automotive era.

When you're serving overseas in the military, you meet a lot of people who say, "When I get home, I'm going to do X, Y, and Z." A lot of times, cars come up in those conversations. Service persons, when they're deployed, often dream of being at home in a vehicle they would love to have.

I served in Iraq from 2004 to 2007, and when I got home, I didn't splurge. I did things I thought were practical. But I always dreamed of owning a classic car, and I'm surrounded by beautiful cars every day where I work. [The Malcolm Pray Achievement Center uses a collection of classic cars to teach students about entrepreneurialism.] Last year, I decided the time was right. I was getting married to my now-husband, Irwin Medina, and I wanted a special car for that special day.