Posted By RichC on October 8, 2013
I ran across a "Packard: An American Classic Car" documentary on You Tube the other day and know it is something my dad will enjoy watching.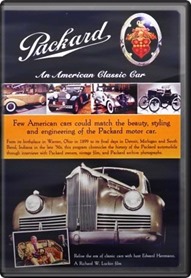 I downloaded a copy to my iPad (using McTube Pro) and am archiving the 44 minute clip to my blog — might purchase the DVD as it would make a great Christmas gift?
If you like cars, the Packard story is a great one … but the companies downfall is pitiful and walking through the old Detroit Packard complex even more depressing for this great American nameplate.