Posted By RichC on December 6, 2016
I headed down to Florida to check in on Encore this past weekend and enjoyed the sunshine but not necessarily the long drive for a short stay.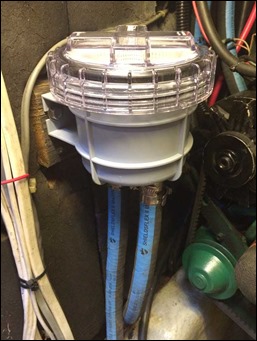 Primarily the in-water project had to do with getting the dodger and bimini back on the boat and getting the deck cleaned up after the harsh summer and brush with Hurricane Matthew in October. Thankful she was no worse for the bouncing around … it really could have been worse.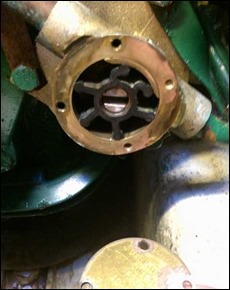 The Volvo diesel hasn't been cooling properly ever since the engine was repaired … or maybe slightly after that when I replace the dripping waterpump? I doubt it is the pump, but am hoping that the small strainer that replaced the broken Volvo Penta original was reducing seawater intake?  We'll see as I replace it with a larger Vetus Strainer. I like the Vetus design with the larger transparent screw off lid and quality feeling plastic construction. While I was tinkering with engine cooling I did pull the water pump apart to check the impeller and "lid" wear. It seems a little too tight but then that is probably in the design. Unfortunately I do not have any thin oiled-paper gaskets and will give it a try metal to metal until I can pick up or make a couple spares.
A trip to Florida would not be complete with visiting my good friends the Jones… and a sandwich at Goodfellas (nothing special but the best Cheesesteak north, south or west of Philly!)  Unfortunately for me, Mark and Dar dropped the news that they would be moving to Savannah in February … something that will be great for them (family close) but sad for me. I'm sure we'll make a point to see each other, but it won't be the same not having them taking such good care of Encore (and me).


 
Oh … the photo above was the bike fix-it station at the Fort Piece Inlet park that I was mentioning to a bike riding friend and Katelyn and Drew who take advantage of the many bike trails in and around Minneapolis.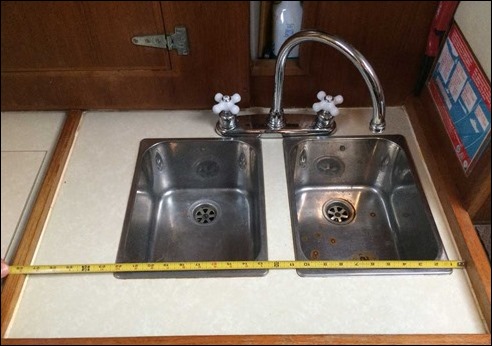 While including photos … I'm contemplating a replacement sink when I re-do the galley countertops. Getting a size and position. There's not enough room for a proper deep twin sink, so I'm contemplating a 6-7" deep single stainless or composite sink that can hold a plastic dishpan with a single drain on the left (drawer under right sink).