Posted By RichC on July 6, 2017

It is time to play a little catch-up again with the blog after the 4-day long Independence Day or Fourth of July weekend. Brenda worked a few of the hours so it did limit travel to a couple of days, but after talking with Katelyn and Drew it worked out well for us to drive up to Perrysburg (Toledo, OH) to see their new house, walk around the historic downtown and have some Lake Erie Yellow Perch at Swig … and of course get to see and hold Annalyn!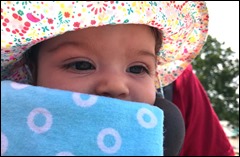 Their new home is SO MUCH LARGER than their cozy but comfortable little ranch home they rented in Wayzata and besides "wanting" to move again … there will never be a NEED to move again; I can't think of any checkbox that isn't "checked off" in this new house. Very, very nice (password protected walk-thru video below).
The walk around town and down to the Maumee River was enjoyable and seeing that both Katelyn and Drew enjoyed and took advantage of all the goings-on in the small town of Wayzata, MN, the will no doubt do the same in Perrysburg. Drew and I walk both sides of the town reading the history markers and interesting facts … while the girls (what a great photo) stopped at a couple shops for a couple new things for Annalyn.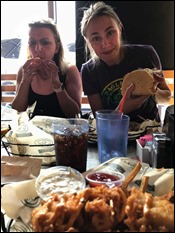 When back to the house, I repaired a kitchen cabinet, offered thoughts on immediate projects (the laundry room is priority) and took advantage of my time holding and playing with Annalyn while Katelyn and Drew did some shopping at Lowes and Home Depot (shocked at their coupon/discounts plus 4th of July deal — they bought a display model LG front load washer/dryer/pedestal stand and "sidekick" under-washer small washer ALL for less than I paid for just the same model LG Washing machine last year! Unbelievable — so jealous! And if that wasn't good enough, found yet another coupon that they were able to apply for yet another 11% off. Who needs Amazon … or in my case Goedekers)
We're looking forward to more visits and having our children and grandchild back in Ohio … as it was also great to see Taylor over the 4th too. He and I spend half a day together after having brunch at First Watch and talked about his trip to West Virginia (friend Will that he hiked in Hawaii with) … while I shared with him the video walk-thru of Katelyn, Drew and Annalyn's new house.