Posted By RichC on July 20, 2017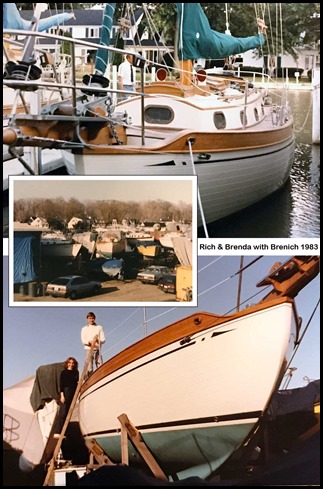 My son Taylor posted a few photos of his weekend with friends in Vermilion, Ohio and the background canals and homes triggered a Throwback Thursday #TBT memory for me.
Before kids, Brenda and I owned a beautiful sailboat we named Brenich and kept it in Vermilion for the first year (subsequent in Huron) and haul every winter at Don Parsons Marina and Boatyard each winter. The Robert Perry designed Baba 30 was one of the sailboats on my "dream list" and when a near perfect secondhand boat came up for sale in our area I had to inquire (rare to even see in Ohio or on the Great Lakes in those days). We were newly married and fresh out of college so budget-wise this was not really the boat for us … but the owner who's wife was ill, lived only a few miles from us in Chagrin Falls took a liking to this young couple wanting a boat and "made it happen." He covered the year of dockage and convinced the Vermilion Yacht Club to let this young couple stay … thank you Harry McKee. Only years later did I realize the risk he took and strings he pulled.
We enjoyed Brenich for several years of summer life in Lake Erie's western basin and cut our teeth on learning to handle an underpowered full keel sailboat in fast changing weather that "is" Lake Erie. Lots of chop and quickly degrading conditions … along with what seemed like a month or two of almost no wind in the heat of summer … oh and those biting flies! (really I should know all of this since I spent my whole youth growing up on the shores of Lake Erie)



Anyway, it was great having Taylor's photos and good time trigger OUR good times and memories.