Posted By RichC on May 15, 2018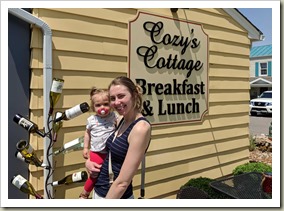 I can't resist archiving a few more photos from Katelyn and Drew's Google Cloud after spending a few days with them last week and over the weekend at my brother's for a small family get-together (reunion) and to celebrate my brother's retirement from Wright Patterson Air Force Base — hard to believe he is retiring so young (56). Drew took a few cute one's the birthday lunch when they took me to Cozy's Cottage (local). I posted a couple of mine from The Cone on Saturday, but wanted to add theirs to the blog too … better late than not.
I could also be considered remise on my blog for NOT wishing my daughter a Happy Birthday yesterday … although we did it in person a day or two early. For the record, I am typing this on Sunday, a day BEFORE her May 14th birthday and am dating it to post a day later … so I really didn't forget (wink, wink).
 HAPPY BIRTHDAY KATELYN!