Posted By RichC on May 1, 2022
As a James Garner fan and follower of his daughter Gigi on Twitter, I enjoyed a recent article highlighting raising money for animal welfare with his famous TAG Heuer Carrera watch (below). Earlier this year I was impressed with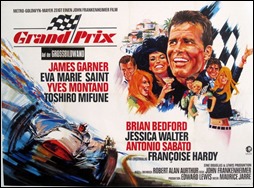 his daily driver, a 2009 Cadillac CTS 4-door sedan up for auction on Barrett-Jackson, raising $100,000 with his MAVROCK license plate. I was someone who grew up watching the Rockford Files and being envious of his driving skills and Pontiac Firebird. I'll bet his watch goes for a pretty penny?
Since Brenda and I have been watching old movies this past year with our Hello Fresh dinner an a weekend movie, maybe I can talk her into watching Grand Prix?
Click for "Rockford Files" trivia.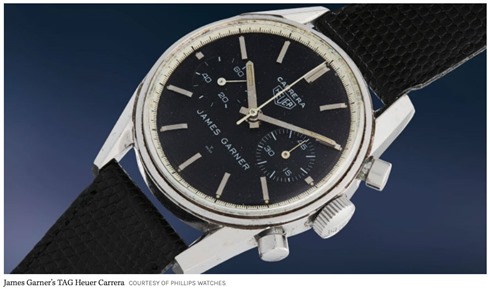 The Story of James Garner's Heuer Carrera 3647N  

Last Updated on June 25, 2019

This is the story of a very special 1960s Carrera, a watch that belonged to a Hollywood legend who not only starred in one of the most famous motor racing films of all time, but was also the owner of a racing team that competed at Le Mans and Daytona. This is the story of James Garner's treasured Heuer Carrera.

For years it has been known that Garner wore a Carrera in The Rockford Files, but what confused collectors was the mysterious text on the dial. Much speculation has been tossed around about the watch on various watch forums, because the blurred photos and screen caps made it impossible to clearly read the inscription.

But the answer is a simple one- printed on the dial is the actor's name, just below the two sub-dials.

Garner was from the golden age of Hollywood, starring in countless movies (Grand Prix, The Great Escape, Murphy's Romance and- for younger readers- The Notebook) and television series such as Maverick and The Rockford Files. Good looking, down-to-earth, Garner was one of Hollywood's most loved leading men. He was also close friends with fellow petrol-heads Steve McQueen and Paul Newman, with the trio encouraging each others fascination with cars and speed.

Pulling together the threads of this story has drawn on the global community of Heuer collectors and enthusiasts, from the initial discussions that Jonathan Scatchard of Vintage Heuer in England had with James's daughter Gigi, through to these great photos taken by Carlo Stepanians in Hollywood and the expert eye of Mark Moss who helped identify the likely source of the printed dial.