Posted By RichC on June 21, 2018
After 8 down days for the Dow, the beginning of summer has not been kind to investors hoping 2018 would be a bit more positive. With unemployment at near all time lows, corporate tax cuts, the economy rebounding and promising better wages … and even talks with North Korea going well, one would think optimism would continue to reign on Wall Street? Nope … indexes are back where we started the year and sharply down as we start the first day of summer. Hm … is it all trade concerns and tariffs, or is the real threat inflation and the Fed raising interest rates to prevent an overheated economy?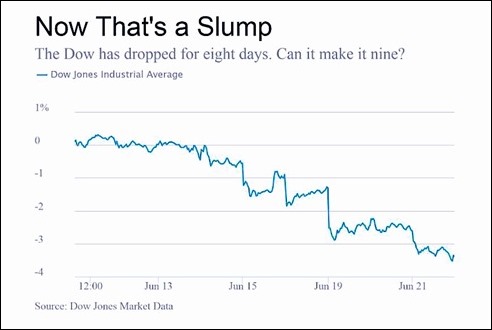 The Dow Jones Industrial Average ended down 196.10 points, or 0.8%, to 24,461.70, while the S&P 500 lost 17.56 points, or 0.6%, to 2749.76, and the Nasdaq Composite slid 68.56 points, or 0.9%, to 7712.95.

If the Dow closes down again tomorrow, that would mark its longest losing streak since it's nine-day loss in February 1978. Since 1896, the Dow has only suffered 10 losing streaks of nine days or more.