Posted By RichC on September 25, 2018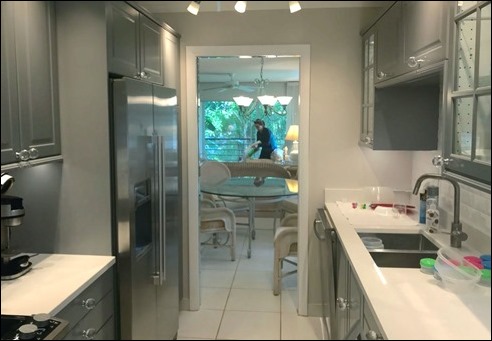 It has been a slow condo1718 updating and remodeling process with spending only a week here and there in Florida … but after driving down to Delray Beach one more time last week, I was able to install the new "delayed" 250 lbs of shower doors (saved photo for damage), finalize the vanity, and sink (plumb), toilet and "headache of a mirror."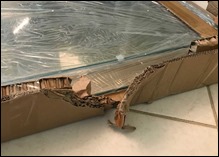 I was able to finish it up in a couple days and then pick up Brenda at the airport for a stretched out a weekend to make the finishing touches and cleaning. It was great to have Brenda with me especially for the full and deep cleaning. We both enjoyed "most of our time" working together, although we still disagreed on a few things (it wouldn't be normal without a disagreement!)
So far I've been very pleased with how the kitchen and bathroom turned out. Minus my time and sweat equity, the total investment wasn't too bad … although probably should have replaced the windows in this same remodel? Putting it on the market after our winter renting of it is going to be harder after knowing just how much effort we put into it — we might set the asking price higher than market and just hang onto it if it doesn't sell so as long as we can cover most of the yearly cost by renting it out.
Finally, what kind of grandpa would I be without my little Annalyn putting her safety glasses on and ready to lend me a helping hand (and thanks for this great "pick-me-up" photo, Katelyn!)