Posted By RichC on December 11, 2018
Who doesn't fall for the "treasures" found in the hardware store discount bins? I'm always looking for a "good buy" when I'm walking through the hardware store … and such was the case in seeing this outdoor LED floodlight.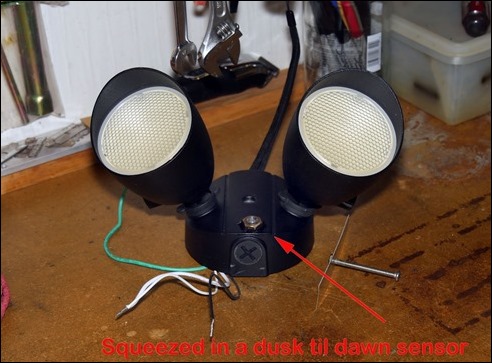 The twin incandescent floodlights that were on the back of the pool house garage for security have long disappeared … but I continue to think about mounting some kind of light back in the open box. Preferably I was planning to install another motion-sensitive light … but since the fixture is up so high, the off the shelf sensors don't seem to work correctly (it is 20′ feet up). I've pondered rigging up a Raspberry Pi to do the sensing and switching, but since LEDs draw so little power, just leaving them on all night as a deterrent might be inexpensive insurance (we really need another Tootsie!)
Anyway, I picked up this new (with missing parts) LED spot/flood for $5 and it should work well. I had a photo-sensor and so decided to add it for dusk-til-dawn operation … probably pennies a week in electrical usage?  Unfortunately the aluminum housing was completely filled with the LED circuit board and the only place to add the one I already had was to cut away some of the internal casting and carefully epoxy the photo-eye in place so it will be watertight (it isn't the first LED that needed an epoxy fix and probably won't be the last). So far it works… next warm day I'll get the ladder out to mount it.
EDIT: Put the new LED light up since the ladder was out for Christmas decor. Nice.