Posted By RichC on February 8, 2019
Yup … I have over 1000 photos.
Once again, the lesson to take to heart is to "control your own data" whenever you can or be blackmailed into new subscription rules or lose everything.  Even more challenging if a company goes out of business or deciding you have infringed on their user policy without warning and having your entire account deleted without recourse.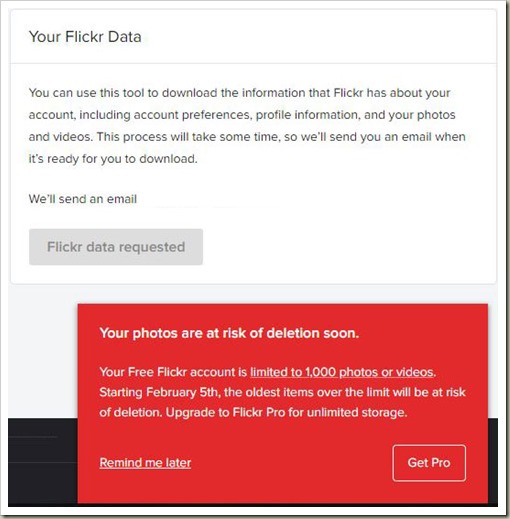 Do you have a Flickr account? Does it have over 1,000 photos?

Go back them up, or you might lose a bunch of them forever.

..

Go to Flickr.com on a desktop browser
Log in
Tap your profile picture in the upper right, then hit "Settings"
Scroll down, and look for "Your Flickr Data" in the bottom right.
Double check that the email address listed is your current one. If not, change it.
Hit the "Request my Flickr data" button.
Wait.

Within a few hours, you should get an email with a big ol' zip file with all of your pictures.
PSA: Go back up your Flickr photos before they're deleted | TechCrunch