Posted By RichC on April 28, 2021
Brenda and I chuckled the other day that while we watch television news interviews and participating on Zoom calls, that we find ourselves noticing,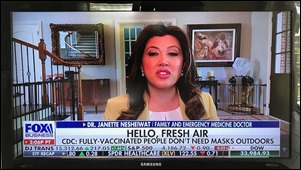 pondering and commenting on "backgrounds" since the COVID19 pandemic.
The included TV photo (left) is just an example as to what we do in thinking and commenting on the antiques, artwork and children/pet fencing people have in their homes when on interviews.
BTW, an interesting background on  Dr. Janette Nesheiwat's guest spot on FoxBusiness.