Posted By RichC on February 16, 2019
Another wonder day spent with the ones I love, and a little one who definitely returns the love;
now that's the way to enjoy a Valentine's Day!
Brenda and I headed to Katelyn and Drew's in Perrysburg this past week and spent Valentine's Day with Annalyn. I of course played the entire day, while Brenda, with Annalyn's help, worked on making a special dinner to serve on Annalyn's new kid-sized table when mommy and daddy got home from work (photo above- one of our our Christmas gift to her).  We all had a great time, although I was tired out!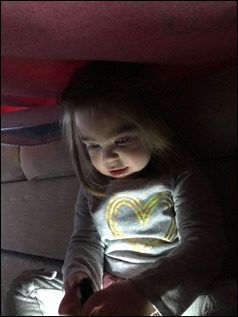 One of the highlights for Annalyn (besides eating cupcakes) was playing "fort" with Bompa and learning to click on and off the little pen-flashlight. She couldn't have giggled or laughed much more (short video below the break).