Posted By RichC on July 5, 2019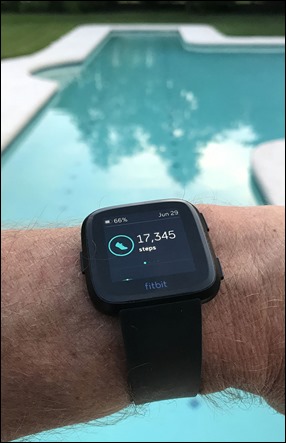 So far the Fitbit Versa "watch" that I received for my birthday has been great … and I'm using it far more than expected. It has already encouraged me to be a little more active as I work hard to hit the 10,000 step goal each day. Thank you Katelyn and Drew!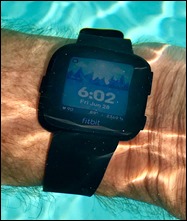 This past weekend was the first time I boldly wore it into the water and it was a little nerve-racking (or is it nerve-wracking) to leave it on in the pool. Call me an "electronic gadgets in water" skeptic.
Of course, the latest devices are made to be water resistant, the Versa to 50 meters … but I'm still old school when it comes to the term "water resistant vs waterproof" when it comes to watches of any kind.  Brenda's big question was whether or not the Fitbit Versa could count laps successfully (a big request for people who love swimming for miles like Brenda). Sounds like it should … and I'll be testing it soon, for now I'm working on keeping my step count up!
EDIT: Adding as I love the week in review sent by Fitbit … very encouraging and motivating.