Posted By RichC on September 13, 2019
Just a heads-up for others using AfterShokz bone conduction headphones while doing outdoorsy kinds of things where bug spray is used – DON'T. I love my Aftershokz Bluetooth headphones, most likely because it enables me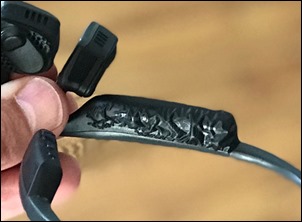 to hear things around me while still enabling me to clearly hear talk and music.
For me, being deaf in one ear is challenging when using a normal "in-ear" or "over-ear" device, so leaving my good ear open while still hearing the headphones is a big benefit. I've boasted about them before and will continue to use them … but WON'T be using products with DEET when hiking or working outdoors while wearing them … or expecting much from customer service.
I was hoping that the company would give me better advice, but it seems they didn't realize … or at least George didn't realize … putting insect repellent on before wearing them will damage the plastic used on the Aftershokz headsets. I was also secretly hoping the company might offer me a chance to upgrade at a discount, but they were not anxious to do anything – a bit disappointing.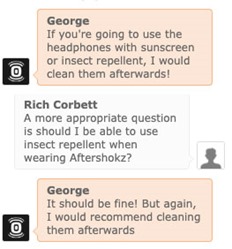 Here is a bit of the transcript and advice when using AfterShokz after I asked about using them with insect repellent.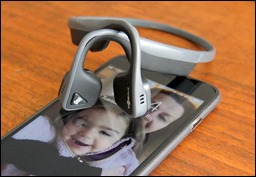 ---
EDIT 9/30/2019: What a great company. After hearing about and seeing images of my headset, After Shokz replaced my old Trekz Titanium with a new set free of charge. What a great customer service experience … I will definitely purchase a new pair, probably the AeroPex!