Posted By RichC on November 4, 2019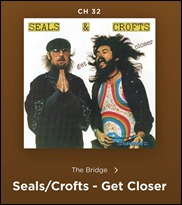 It is hard to believe that Seals and Crofts has not been mentioned on Music Monday? They were one of my favorites harmony groups back on the 1970s … but yes I did include their 1973 Summer Breeze Live version and 1972 Summer Breeze recorded version pre-Music Monday though.
After hearing Get Closer from 1976 on SiriusXm "The Bridge" the other night, I decided it was time to mention Seals and Crofts again.
Get Closer
Seals and Crofts 1976