Posted By RichC on December 12, 2019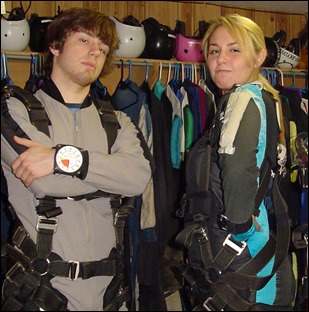 Although Drew's birthday isn't today, I'll post this on Thursday so as to get double-duty out of a birthday greeting and make it a Throwback Thursday #TBT post (a 2007 photo). Back then, Brenda secretly plotted, along with Drew and a friend (Sam), to kidnap Katelyn for her 21st birthday … and then take her skydiving!
I assume they look fondly back on their undergraduate and medical school days in Kent Ohio (they met while in a BSMD program offered by Kent State and NEOUCOM (now NEOMED).
So thankful to have Drew in our family and part of our lives. Brenda and I wish you many more Happy Birthdays!

Oh, and thanks for bringing this little cinnamon licking granddaughter into our lives! 😉 (an animated gif from Katelyn below)