Posted By RichC on March 2, 2020
Simply said – repeatedly – Get Together or Let's Get Together for Music Monday.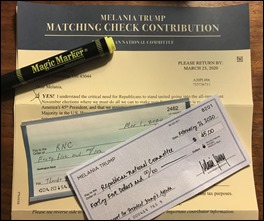 After watching the shenanigans in Washington DC these past few years with everything from the resistance to the election of President Donald Trump, to the constant stream of investigations that ending in an impeachment trial … failure of our elected representatives to legislate respectfully is both disgusting and depressing. Here's hoping President Trump gets 4 more years and that the American people elect representatives to the House and Senate who are at least willing to work on issues instead of resisting a duly elected POTUS. 
I'm sending in a matching check to the RNC in hope all who are like-minded do the same, not only to push back against socialism, but to Keep America Great (personally I can't think of a better fundraising spokesperson than the classy Melania Trump).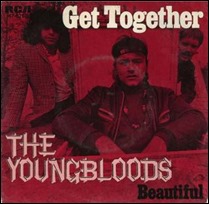 Back to the Get Together music: 
The song was written by Chet Powers and was originally recorded by The Kingston Trio in 1964, as well as a few others … but a better remembered version (at least by me) was the recording by The Youngbloods in 1967 (previous post) and then release again after the tumultuous year of 1968 (hare's a version from a live performance said to be in 1969).
Get Together (LIVE)
The Youngbloods | 1969
Lyrics below
Love is but a song we sing
And fear's the way we die
You can make the mountains ring
Or make the angels cry
Though the bird is on the wing
And you may not know why

C'mon people now
Smile on your brother
Ev'rybody get together
Try to love one another right now

Some will come and some will go
And we shall surely pass
When the one that left us here
Returns for us at last
We are but a moment's sunlight
Fading in the grass

C'mon people now
Smile on your brother
Ev'rybody get together
Try to love one another right now

C'mon people now
Smile on your brother
Ev'rybody get together
Try to love one another right now

C'mon people now
Smile on your brother
Ev'rybody get together
Try to love one another right now

If you hear the song we sing
You will understand listen
You hold the key to love and fear
All in your trembling hand
Just one key unlocks them both
It's there at your command

C'mon people now
Smile on your brother
Ev'rybody get together
Try to love one another right now

C'mon people now
Smile on your brother
Ev'rybody get together
Try to love one another right now

C'mon people now
Smile on your brother
Ev'rybody get together
Try to love one another right now
Right now, right now